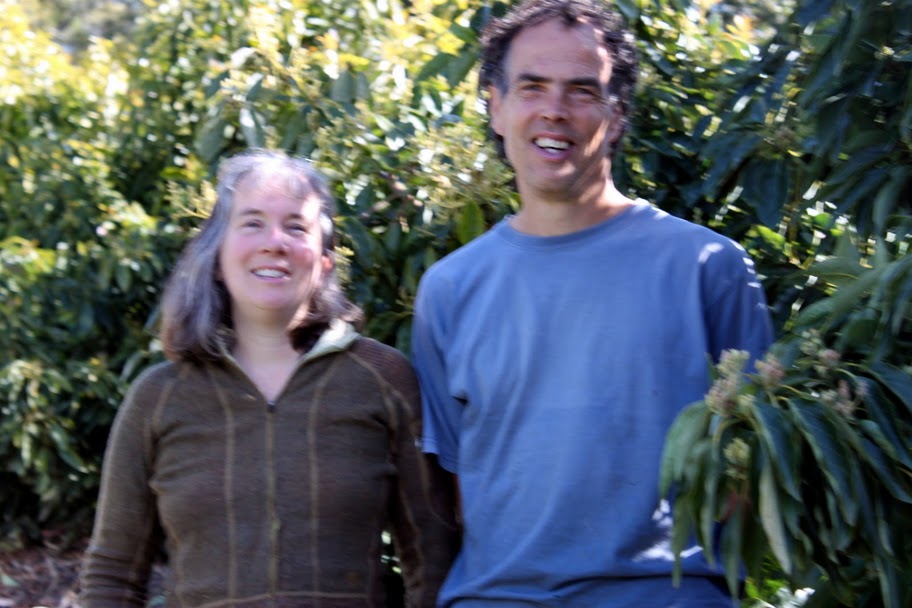 Ellen Baker and Fred Menge live in Santa Cruz County, California, with their family, their dog, cow, and too many chickens.  That's us.   We have been obsessed with growing and foraging fruit on the California's central coast for over 20 years. Straying from a primarily pomme fruit focus, we have lately felt called to pursue a new love: avocados.  We became indignant when confronted with the fact that avocado growing in Northern California only follows the commercial market.  There is no source for connoisseur quality, exceptional, and unusual varieties, although those varieties certainly do exist in collections belonging to U. C. Irvine and others. The problems we encountered acquiring some of the great cultivars provoked us to start a nursery dedicated to righting this wrong.  We welcome you to Epicenter Nursery, our attempt to share some of our avocado excitement with the rest of the state.
We can be reached by e-mail by using the form on the "Order Avocado Trees" page of this website.
Or by mail: 173 Alta Dr., La Selva, CA 95076.  Please note: we are not open to the public on a daily basis.  If you wish to visit, please contact us via e-mail first.  Thank you.